Bangernomics is about fruity old cars that have had all the depreciation shaken out of them, yet remain in defiantley usable condition. Click on the logo above to visit the Bangernomics website. Bangernomics has sent everyone a Christmas card...
Got a question? 
Provided its about cars rather than flower arranging ping it over to [email protected]
Free Buying Guides 
that will help you buy a better banger. Checklists, a guide for Auction Virgins and buying a Classic Car in three easy stages. Oh yes and we've even got '70s Cartoon Superhero Spencer Haze to give us a comprehensive guide to buying a classic too Click Here.
Watch Bangernomics TV
Buy Books 
Get a Graphic Novel featuring '70s Superhero Spencer Haze, The Bangernomics Bible of course and the award winning German Car Industry My Part in its Victory. 
Check out other reader's cars in Reader's Drives. 
Celebrity Bangers
Even read about Celebrity Bangers with Sir Ian Botham, Julia Bradbury, Tony Robinson, Dale Winton, Andy McNab and Uri Geller to name drop just a few.
There are also features and films and all sorts of Bangernomics related things, oh and for a limited period some free T-Shirts. In the true spirit of Bangernomics simply click on the link and get yourself a zip file containing the design that you can then iron on to a T-Shirt, overalls or Tank Top of your own. I know you won't resell them, but for the pleasure of friends and family go right ahead.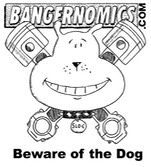 Bangernomics sends all its Telegrams for Birthdays, Telegrams for Anniversaries and Telegrams for weddings via http://www.telegramsam.co.uk
Bangernomics  buys all its books from Foresight Publications http://www.foresightpublications.com
Bangernomics buys all its fly screens and  insect screens http://www.flyscreenqueen.co.uk
Bangernomics time travels to the 1970s with Spencer Haze http://www.spencerhaze.com